Web Designing Course in Patiala
Web Designing Course in Patiala – DMI Patiala is providing the best Web Designing Course in Patiala, Patiala Punjab. DMI Patiala is top-ranked Website Designing Course Institute in Patiala, Patiala Punjab. which has trained more than 100 students from around the globe. We use the internet to access different websites. With the growth of the internet, there has been growth in web designing also. Businesses are investing a huge amount on websites to maintain a strong digital presence. Hence, the scope of web designing has increased.
A lot of opportunities have increased in this field. Therefore, there are so many institutes and courses that are offering a course in Web Designing. By being a web designer you can work in a company or as a freelancer.
Web Designing Course in Patiala is the best course that offers a training program in web designing to students. This course is available for students at affordable prices.
Our Courses
Our Services

Book Demo Class Now


Contant Us Toady

Importance of Web Designing Course in Patiala
Web Designing is important as it helps in connecting with your audience. Your audience gets an insight into how you will treat them by looking at your website. A website is considered as the first impression of your business. As a result, it helps in making an impact on your audience. The poorly designed website leaves a negative impression on your audience. The audience won't trust your business with outdated and poor web design. Therefore, it is really necessary for your business to have a unique and attractive web design for the website. Also, with good web design, you are able to be ahead of your competitors. Your website should stand out from your competitors' websites to increase more leads on your website.
Elements of Web Designing
Responsive Design
A responsive web design helps your audience to have a great experience on your site irrespective of the device they are using. Users can access your website from desktops, tablets, and smartphones. This helps in keeping the users engaged and interested in your site.
Style Guide
Style Guide is basically how you want your website to look. An eye-catching website helps in increasing leads and eventually turning your business into a brand. The proper color, format, design ensures consistency across your entire website.
Good Navigation
A properly designed navigation helps your audience to get easily directed to the information they need. If you want users to remain on your site, then you must implement navigation that is easy for the audience to use.
Good Content
Your audience visits your website to find the information they are looking for. Hence, it is really necessary to provide them with good, informative, and valuable content. The good content helps in keeping them engaged on your website for a longer period and learn about your business.
Topics Covered Under Our Web Designing Course in Patiala
CSS Code Course.
HTML Code Course.
CorelDraw Course.
Adobe Illustrator Course.
Adobe Photoshop Course.
Dreamweaver Course
Why Choose Our Web Designing course in Patiala?
Highly experienced staff
Customized Syllabus
an ISO Certified Institute
100% Live Project training
100% Job Placements.
12 years back in 2008.
trained hundreds of students
Affordable Fee Structure
What is Website Designing?
Website Designing covers various skills and disciplines in the production and maintenance of websites. The different aspects of Web Designing include web graphic design; interface design; authoring and much more. The term web design normally describes the designing process related to the front-end design of a website. In other words, Website Designing means planning, creation and updating a website. It also involves choosing the right website structure, website layout, colours, fonts etc. Hence, all these website elements joined together forms a website. In the modern era, there is a massive demand for Website Designing in almost every sector. As there is a dire need to have a website in every business. Therefore, it is an essential aspect of every business to achieve success.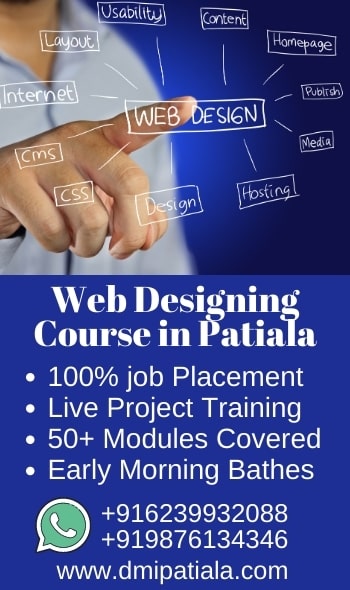 The Scope of Web Designing Course in Patiala
Name of the course: Web Designing Course
Duration of the course: Minimum 2-6 Months & Maximum Unlimited Timing:
Major Topics / Modules are:
Introduction to Web Technologies
www, domain, hosting setup, Email Setup
Web 2.0 framework, colour scheme, page layout, grid layout, liquid layout, 960 grid layout
PSD Creations- PSD to HTML, HTML5, PSD to WordPress
HTML, XHTML
HTML5
CSS, CSS2
CSS3
Dreamweaver
Photoshop
JQuery
Javascript
Advanced Tages (Header, footer, nav, section, frame, left side, right side, SVG)
Responsive design, big background, action button, form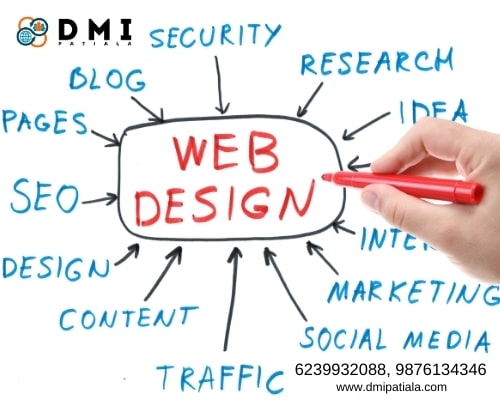 Twitter Bootstrap 2,3 versions, Foundation CSS Framework
One page site design and layout
Landing page design, contact page coding
Basic PHP concept
WordPress setup, customizations
Live Projects
Online Certification + Experience Certificate
Jobs
Introduction to Web Design
Domain Names & DNS
Client and Server Software
Static & Dynamic
Careers in Web Technologies
Latest Web Designing Software & Updates
Adobe Photoshop CSS-2
Introduction of Stock Photography
Types of Images and Image Editing Tools
Introduction to Adobe Photoshop
Using Photoshop Tools
Layers, Actions and Filters
Creating Custom Effects
Design Banners, Basic Website Layout
Design Complex website Layout
A conversation of PSD to XHTML
Adobe Dreamweaver CS3
Intro to Adobe Dreamweaver
Defining a Dreamweaver site
Adding Content and multimedia
Creating user submission forms
Importing a website design
Dynamic Features
Testing and Implementation
Various Browser Versions
Validating the DHTML & CSS
Common Compatibility Issues
Cascading Style Sheets
Introduction of CSS
Types of style sheets
Types of CSS Selectors
Complete CSS properties
HTML & DHTML
Structure of HTML
Basic HTML Tags
Advanced HTML Tags
Difference between HTML & DHTML
DHTML Basic Tags
How to create a website
Client Requirements/ Specifications
Creating a concept and layout
Choosing a colour Scheme
Choosing Stock Photography
Why should I learn this course from DmiPatiala?
· Fully hands-on training
· 30+ hours course duration
· Industry expert faculties
· Completed 1500+ batches
· 100% job oriented training
· Certification guidance
· Affordable Fees structure
What are the different modes of Training that your Website Designing Institute in Patiala provides?
· Classroom training
· One to One training
· Fast track training
What are the payment options?
We accept all major kinds of payment options like cash, card, net banking, UPI etc.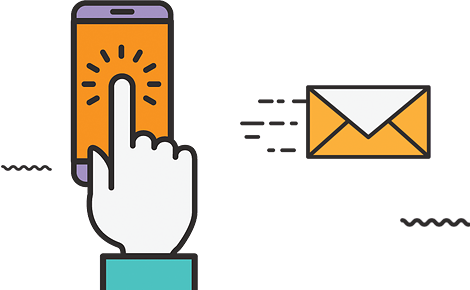 Email Newsletters!
Sign up for new Seosight content, updates, surveys & offers.