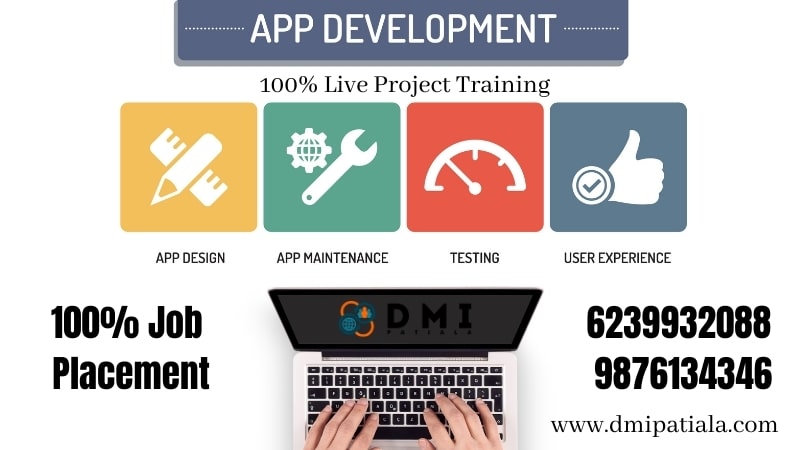 App Development Course in Patiala
App development course in Patiala – DMI Patiala provides you best app development course in Patiala with live project training and job placement. DMI Patiala's App Development Course in Patiala guarantees that you will effectively turn into an expert App developer. This course explains basic as well as all the fundamental concepts in app development. This will boost your career in the application development industry. Moreover, you will earn the important skills and knowledge that are required to become a successful app developer. This course is ideal for anyone who wants to build a professional career in App Development.
The Popularity of App Development
As popularity is growing, more and more businesses are developing their mobile apps to reach out to their customer base and stay in high demand. Hence, there is a huge demand for app developers and businesses are also investing a good amount. Join the best App Development Course in Patiala and get trained with designing, coding as well as iteration skills. All these are important to have a good start for your career. Get training from professional App developers who have years of industry experience and offer the best coaching to students. There are several companies that are offering jobs to fresher as an app developer.
The Advanced App Development Course in Patiala focuses on training the students on how to create and test an application on devices such as mobile phones, tablets, and more. Also, it trains how to deploy applications into the market like Amazon and Google Play. This course is providing theoretical as well as practical training to students where they also work on real-time projects.  The main goal of this course is to produce Mobile Application Developers at the end of the course.
Ask Our Expert why choose DMI Patiala for App Development Course in Patiala. This Application Development Course is stocked with various tools and techniques that help students to develop innovative and creative applications for both mobiles as well as the web. This will help you to become a pro in developing applications. By undertaking our certified course, students will get in-depth knowledge about the advanced as well as the latest technologies that are required by the industry. There are several reasons to choose DMI Patiala for this course such as-
Get trained by Industry Experts
Training on real-time projects
Affordable rates of the course
Weekday and Weekend classes of the course
Globally recognized certificate
100% placement assistance
Benefits of App Development Course in Patiala
As a part of the digital revolution, mobile applications are in a lot of demand and also have a huge influence. There are several benefits to learn about App Development such as
Higher ROI with Lower rates
Target Multiple Platforms
Customization App Development
Who can join the App Development Course in Patiala?
This course is available for all students and professionals who want to create amazing and professional Apps. It is important to have a core Java knowledge to learn about App development. If anyone does not have knowledge about Java, we also provide a Java course that improves the skills of students.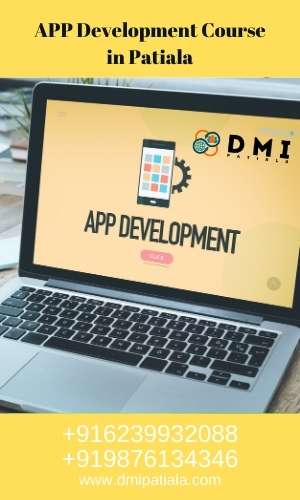 Syllabus Of App Development Course in Patiala
Mobile Application Development Syllabus
Introduction
Introduction to Mobile Computing
Introduction to Android Development Environment
Factors in Developing Mobile Applications
Mobile Software Engineering
Frameworks and Tools
Generic UI Development
Android User
More on UIs
VUIs and Mobile Apps
Text-to-Speech Techniques
100% Job Placement
Designing the Right UI
Multichannel and Multimodal UIs
Intents and Services
Android Intents and Services
Characteristics of Mobile Applications
Successful Mobile Development
Storing and Retrieving Data
Synchronization and Replication of Mobile Data
Getting the Model Right
Android Storing and Retrieving Data
Working with a Content Provider
Communications Via Network and the Web
State Machine
Correct Communications Model
Android Networking and Web
100% Live Projects
Telephony
Deciding the Scope of an App
Wireless Connectivity and Mobile Apps
Android Telephony
Notifications and Alarms
Performance
Performance and Memory Management
Android Notifications and Alarms
Graphics
Performance and Multithreading
Graphics and UI Performance
Android Graphics and
Multimedia
Mobile Agents and Peer-to-Peer Architecture
Android Multimedia
Location
Mobility and Location-Based Services
Android
Book Demo Class Now
Putting It All Together (as time allows)
Packaging and Deploying
Performance Best Practices
Android Field Service App
Security and Hacking (as time allows)
Active Transactions
More on Security
Hacking Android
Platforms and Additional Issues (as time allows)
Development Process
Architecture, Design, Technology Selection
Mobile App Development Hurdles
Testing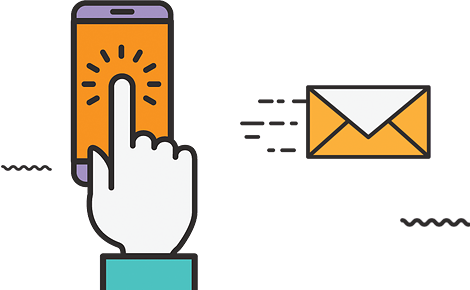 Sign up for new Seosight content, updates, surveys & offers.