Digital Marketing course in Ludhiana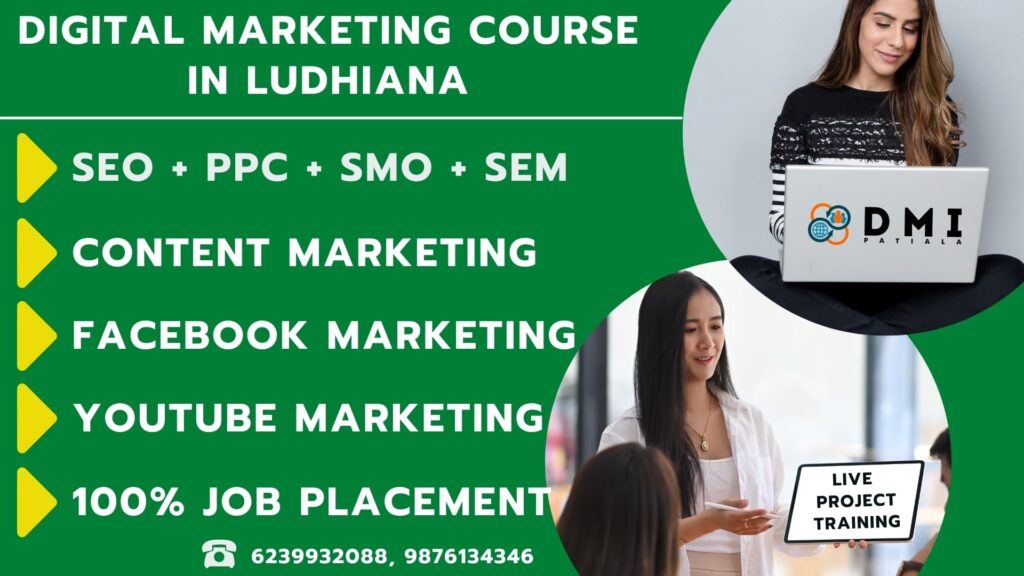 Digital Marketing Course in Ludhiana
Digital Marketing Course in Ludhiana – DMI Patiala ventures into the field of Digital Marketing Course Training Institute in Ludhiana with a guarantee to change traditional training bring progressed strategies. Moreover, we try to achieve the objectives of each learner with 100% help even after the completion of the course. DMI is bringing a thorough Digital Marketing Course in Ludhiana to teach students about virtual advertising as well as its advantages. Our Digital Marketing Course is shaped in a manner to change the students into an expert in the field of digital marketing. By taking our broad course module, you can figure out how to build an online presence instantly.
Digital Marketing Training Course in Ludhiana focuses mainly on helping people gain exposure on the web and market their items utilizing digital marketing strategies. Utilizing digital platforms as a medium, brands can reach the audience and increase brand awareness. It helps focus on the correct sort of crowd and in a monetary manner. With the increasing use of the internet each and every day, the demand for digital marketing is growing.
DMI's Digital Marketing course in Ludhiana offers top to bottom information about the field of digital marketing. It also offers its utilization in profiting organizations. It introduces students to the basics, advanced areas of the digital marketing field. Moreover, it goes on to provide an understanding of the nuances of it. This will make you an expert in the area of digital marketing. The course is of proper theoretical as well as practical training for the students.
Features
From advertising on different platforms of social media, taking care of instruments, advertising strategies, and campaigns to constant applications, in this course, you learn everything. Before the course is over, the students will have aced the abilities of SEO, SMM, PPC, and numerous other fundamental areas that are the core of the digital marketing world.
Call Now 986134346 and Book Demo Class 
6 Month Training Course
DMI is conducting a Digital Marketing certification training course in Ludhiana, India. Our Digital Marketing certification training course includes dedicated training. The batch size of limited students usually runs for 2 hours per session. These sessions are there during weekdays or weekends depending on the need and requirement. The timings are adaptable and the educational program concentrates more on various features of Digital Marketing. These include PPC, SEO, SMM, Mobile Marketing, Email Marketing, Analytics, and different points that can be included dependent on request. Our expert professionals will make the courses that will be conveyed by the teacher having years of skills as well as experience. Besides, the specialists here offer proper training and guidance to students and help them with their questions and queries. Special sessions are there for revision as well as queries.
Course USP
We're a standout amongst other Digital Marketing Training Institute in Ludhiana and our USP clarifies why!. Our Course USPs are made to best fit the Digital Marketing lovers in the area! A portion of our USPs concerning our course includes
Group Discussion
Flexible Timings of Classes
One on One Doubt Clearing Session
Tasks, tests, and so on
Reasonable Prices of the course
Call Now 986134346 and Book Demo Class
In our Digital Marketing Classes, we give
The best part is that the Digital Marketing expert faculty mentors the students for a good understanding of concepts. At DMI, we accept information fades away when not put into appropriate use. It is therefore why our practical training sessions start with the basics going up to Live Internships and finishing with Placement Assistance. From the main day of class to the primary day of work, we plan as well as guide every one of our students to be well capable of facing obstacles and be habitual to the industry environment.. After the Course
Live Internship for a better experience
Google Certifications for superior resume
Development and information
Job Placement for better opportunities 
DMI Ludhiana is the top-ranked Digital Marketing Course in Ludhiana which has trained more than 100 students from around the globe. It provides an advanced course that offers theoretical as well as practical training to students. The main purpose of the course is to empower students to accomplish their goals and become a successful professional in the field of digital marketing. Proper classroom training is offered to students which are equipped with the latest as well as advanced technology.
DMI Certification is approved by all major Global Companies around the world. We provide a certificate to students after completion of the theoretical and practical sessions. Also, our certification is approved worldwide. Moreover, the value of your resume increases and helps you to get your dream job and work in leading MNC's of the world. The certification is only provided after the successful completion of our training and practical based projects.
Proper theoretical as well as practical training for students
Affordable prices of the course
A globally recognized certificate is given to students
Proper classroom training as well as Online mode of training
Backup and revision classes
Doubt sessions are conducted every weekend
Flexible timings of the classes- weekday as well as weekend
Practical training of 3 months
Real-time case studies
Job assistance is given to students
Weekly assignments are given to students
Proper tests as well as quizzes are conducted
A career in Digital Marketing
Digital Marketing is here to stay as its demand is growing each and every day. Hence, everyone wants to be a part of its future. After completing the digital marketing course you can work in the following digital marketing job roles-
Digital Marketing Executive
SEO Specialist
Content Manager
Email Marketing Specialist
SEO Manager
Digital Sales Executive
Social Media Manager
Web Analytics Executive
SEM Specialist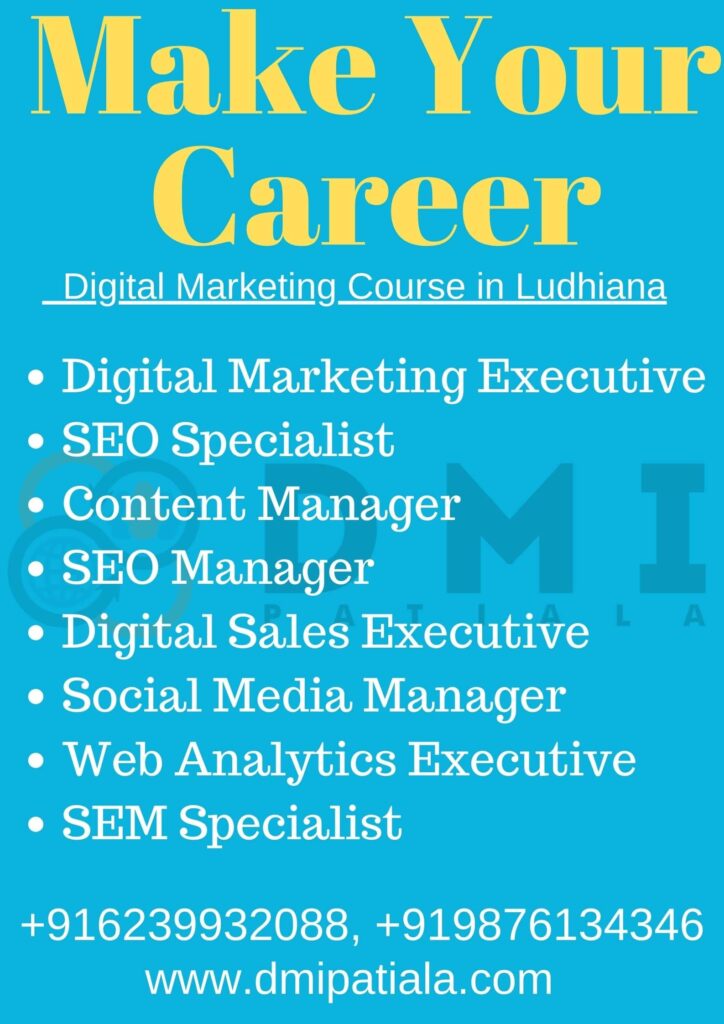 Digital Marketing Course in Ludhiana
After the course, you will be able to
How to promote your business on various digital
Analyze on-site SEO factors to rank in search engines.
Find the blogs as well as outlets of other for guest posting
Successfully promote your business through social media platforms such as Facebook, Twitter, Instagram, and YouTube.
Search for relevant and right keywords for your business that will improve the ranking of your website on SERP (Search Engine Result Pages)
Use of various marketing strategies as well as tricks to engage social media followers
Use Google Map to help your audience to reach out to you by optimizing Google my Business
Increase leads as well as sales through techniques and strategies
Successfully promote through commenting as well as posting on various social media to increase post engagement.
Digital Marketing is worth the investment. This course provides lifetime access to all the course materials and future updates. This course will help you to achieve your dreams. With our digital marketing tools and resources, you will be able to stay on top of present market trends as well as will be successful in this field. There are various courses that close the door after the completion of the course. But our leading Digital Marketing Course in Ludhiana continues to offer lifetime support and education to our students. The course offers lifetime access to premium tools, E-books, projects and assignments, and more.
As there are new updates and trends in the market every now and then, we help our students to stay updated. We help you to implement and understand the new rules and guidelines that take place for the best-desired results. You can grow and flourish in your digital marketing business with the help of our resources.
BENEFIT OF DIGITAL MARKETING COURSE IN LUDHIANA:
100% Practical Training
7 years+ experienced staff
Live projects training
Certificate
1400 students trained
Special batches for job persons
Extra classes
Doubt sessions
Affordable course fee
sorts of equipment are provided if a student doesn't have
DIGITAL MARKETING COURSE DETAILS- (DURATION- 90 DAYS)
E-mail Marketing
Webmaster Tool
Build a site map
Inbound and Outbound Marketing
Affiliate Marketing
Mobile Marketing
Search Engine Optimization
Price Per Click (PPC)
Social Media Marketing
E-commerce Marketing
Infographics Content Marketing
App Store Optimization
Google Analytics
Digital Marketing Strategy 
6 Month Industrial Training
After the completion of the course, students are offered 3 months of industrial training. In this, they work on real-time projects of the clients and handle their projects on their own completely. There are experts that give them full guidance and train them properly. The experts make sure that students gain all the skills and knowledge during this training and become an expert in the field of digital marketing. This training helps students to be prepared for the industry environment.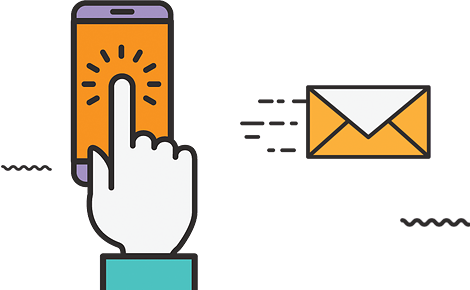 Sign up for new Seosight content, updates, surveys & offers.